Fail Better....
Done is better than perfect
Hello Pocket Friends,
Following on from last time, have you ever had a hobby where you practiced the same thing over and over again until it was perfect?
The 100th story that I wrote was better than the first. I could have tinkered with it until it was perfect (spoiler - it would never have ever been perfect) or I could have moved onto the next one and put what I had learned into the new creation. I'm not saying that if a project has got boring that you should move onto the next shiny thing every time, but I know that most creative people have several abandoned projects stuffed in drawers or in folders in the cloud.
Try. Fail. Try again. Fail better.
Be brave. Be bold. Niche down.
Go big or go home. Be yourself.
One of my earlier stories finally saw the light last week. Back in 2018/9, I wrote a short story called 'Stand Down Soldier' and it was accepted for publication. Then the world went on pause for a bit. Last week, there was the book launch of the anthology, 'InDivisible' by Commonword, in Moss Side, Manchester. Click here to buy a copy.
It's one of the few stories that I've been paid for.
It's also one of those stories where I still cry every time I read it.
Another one of my short stories is due for publication any day now. 'Say When" was originally published by Retreat West in the Sabateur best anthology-nominated collection called, 'No Good Deed'. I know there is still lots of life in it, so I tweaked it and submitted it again. This is one of my stories that I'd like to see made into an ITV Monday night drama, but how one goes about that, who knows? If there are any people with telly connections out there who are looking for a gritty, desperate tale of a young, female protagonist on the run with ptsd and a taste for thieving, then please get in touch.
This time round, it's a local publisher, Fox Books in Leicester, that has compiled an anthology, so watch this space…
My Etsy shop was slow just after Christmas, but has picked up in the last week. I am working on three commissions at the moment. That guillotine was a great investment. It was expensive, is heavy and dangerous, but has elevated my game.
I'm planning on offering some children's books in my Etsy shop, like the one below for purchase as they are, or customisation into notebooks. I'll upload a few this week. They will be filled with dyslexia-friendly 120gsm High quality, Clairefontaine coloured paper and make lovely nostalgic gifts for readers of all ages. This paper is the good stuff. People use it to make orders of service or event programmes.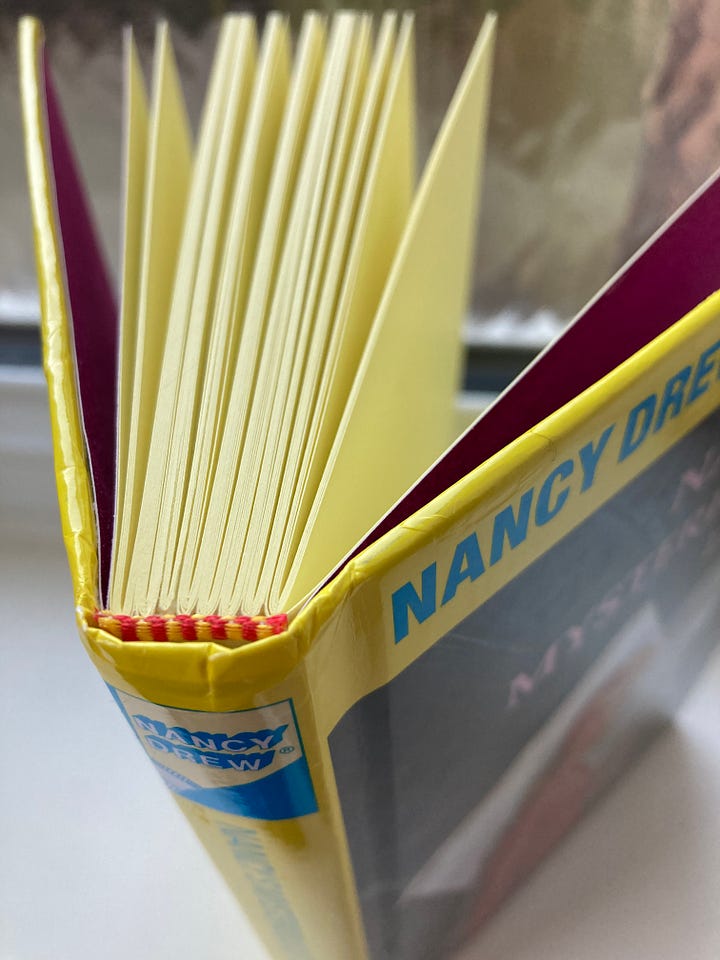 My Hit List
When you just need the equivalent of a duvet day and junk food for the eyes, you have to check out the trashy/glossy tv that's a mix of the OG not reboot 'Gossip Girl', 'Made in Chelsea', 'Dexter' and the delightfully hilarious American view of upper-class olde England. Sounds good? Then you could do worse than Series 4 of 'You'. It's one of those programmes that you watch for the house decor and lifestyles, rather than the plot.
Not as slick, is my second effort at an instructional/tips video. All about bone folders is below. You get to hear me speak. Did you think I'd sound northern?
Finally, here's a recent song that's been on my playlist ever since I heard it. It's bold, brave and Grian, the singer, literally gives you his heart. Fontaines D.C. are men that aren't afraid to try. So we've come full circle. Go on. What are you waiting for? As they say, just do it. What have you got to lose? At least you tried. Next time you'll fail better.
Until next time,
Nx