Snow, Sleet, Slush and Snirt
(That mucky, dirty snow)
Hello Pocket Friends,
There many be 50 words for snow, but it's only the right kind of snow that most of us like. Those first few floating flakes that make us run outside. To enjoy the moment before we remember the reality of how Britain deals with snow. Have you ever seen the reaction of someone the first time they see snow?
Looking out of the window on a cool, still morning where a marshmallow duvet softens everything in the garden, and tiny arrows of bird footprints stop mid track. Clean, fresh, pure. Not cheek-stinging sleet/hail, or stepping into slush that leaves you with one sodden foot. (I saw that Ray Mears episode where his said that dipping your bare feet into cold water, drying them and putting on clean socks was survival tactic to warm up your feet quickly, but still.) Snirt is apparently that blackened, greasy, mushy snow at the edges of pavements that lingers for days. I'm sure snowmen used to be bigger when I was a child. Lorelai Gilmore was right; some people really can smell snow.
January is also the time for new starts and predictions.
Fashion. To fashion is to make. I've made only one notebook in the last 3 weeks as I've been busy with work. It was a commission though, which somewhat boosts the creative ego. My commute is giving me time to let the ideas marinate, and brew, so when I get some time to create, I'll have a few new ideas to try out. Don't get me started on the fashions I've seen on my commute. There are people out there who dress for the weather that they want it to be rather then the weather that it actually is. Bare legs in January? No coat and short sleeves? In January. Oddly enough, although I am not one to follow fashion, I find myself fashionable right now. Straight leg/boyfriend jeans. Tick. Birkenstock Boston clogs. Tick. I guess if you wear something for long enough then you get your 15 minutes eventually.
This is what a pair of Birkenstocks Bostons look like after 10 years wear around the house.
(Washi tape repair to the cork heel) Note to reader - if you every buy washi tape, you might think that they're all similar and so opt for the cheaper ones. In my experience, (and I have 4 long After Eight tins full of the stuff) the best washi tape is the MT brand. It has the best adhesion, yet doesn't rip the paper that you've stuck it to, should you wish to remove it.
Pantone's choice for 2023 is not a colour normally on my radar, so I'll move along.
However, Etsy, has picked two colours, which just so happen to be very close to the colours in the Ukraine flag, so bravo.
Indigo and honeycomb.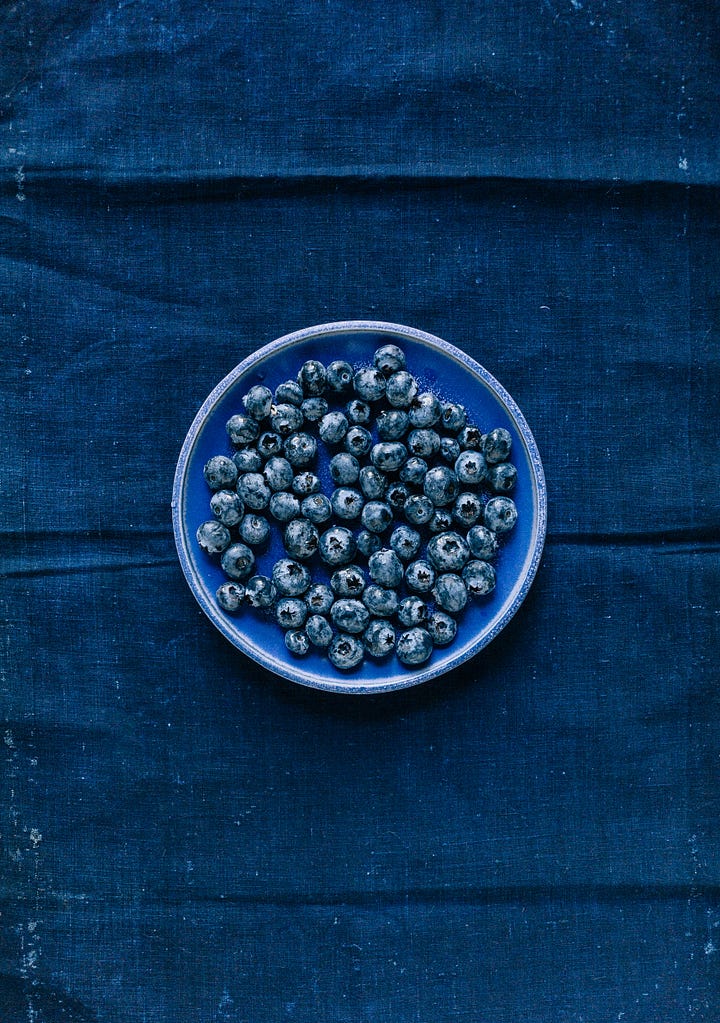 Indigo is in that section of the colour wheel where I would naturally gravitate to. (I know you think my favourite colour is teal) Indigo is new stiff denim where your fingernails turn blue. Japanese cotton fabric. Ink.
I did look at a bigger picture of honeycomb, but I have that weird condition where lots of repeated images of small holes make my head tingle. Trypophobia. Google it. It's a real thing.
Speaking of holes, or dots to be more precise, I saw a video of a hyper-realistic robot of the artist Yayoi Kusama (in a Louis Vuitton colab) recently.
That's not all. Click here to see what other incredible cutting edge visuals occur when high end fashion and big budget state of the art advertising meet in capital cities. Whatever it's called, I like it. The masses might not be able to afford monogrammed luggage or handbags, but we appreciate the gesture of free, public installation art.
Hit List
I have 2 films on my hit list as my recommended viewing, this fortnight. Draw the curtains, get in the snacks, grab a cuppa, settle down, get cosy and enjoy.
Phantom Thread
Mrs Harris Goes to Paris
Both star the actor Lesley Manville, are set in the early 1950s, and approach the subject of couture from very different angles.
I'm sure that these films will be dissected and discussed in Film Studies classes, and that there are many online reviews, so I won't go there. Instead, I'll leave you with these.
(The trailer for Phantom Thread doesn't do Lesley Manville's character justice, but this scene does.)
So until next time,
Nx